Puppets
The puppets (the Seeker, Greeter (Revenge), and Screamer) are still in the level, but their A.Is are 10% more difficult than Level 6: You've gone too far.
Level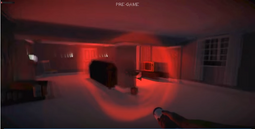 The level itself is colored in a bloody red. Your flashlight will show a red light instead of a white one, but it will still point out the hiding and safe spots.
Strategies
Tips
Symbolism
---
This article or section contain speculation, so please keep that in mind while reading.
---
The level name, Desperate Scream, is either referring to Tim Denson, who is in a form of purgatory, or his daughter, whom he killed.
Community content is available under
CC-BY-SA
unless otherwise noted.