Floor 2 is the sixth playable floor of 123 Slaughter Me Street. Just like the other floors, it's extremely difficult. The player is able to complete this floor by controlling the situation with their best knowledge and abilities.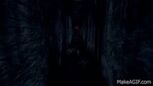 Strategies
The player may be able to stretch out their time if they can carefully deal with the Greeter, then the Waiter and the Follower but even so, they can still get through this situation by knowing their patterns.
Tips
The Waiter is waiting for the player on the end of the hallway, this may prove difficult as the Follower may take the chance to kill the player. Check him first and then the Waiter before opening the door.