123 Slaughter Me Street 3 is an upcoming indie survival horror game that will be created by Impulse Game Studios. It will be the third game of the 123 Slaughter Me Street series, and the sequel to the first game, It is possibly the last game in the main series, not including evolutions or retro.
The game was thought to be cancelled. But on the 5th of July, John released a video on the Slaughter Me Street channel that they are working on it. Although, the video is now private.
The Demon Follower follows.
The Demon Greeter greets.
The Demon Waiter waits.
The Hunter hunts.
No idea what Mr. Pig does.
Gameplay
The game would start with Tim Denson in a mental asylum, he would hear the people in the asylum get murdered. He would then escape into a city. You would need to whip items such as a soda can to knock off the puppet's masquerade masks to either flee or attack the puppets with your flashlight.
All that is currently known about the new mechanics is the player must be cautious when near a tree, or else the Demon Greeter will attack them. The player should also pay attention behind them, in case the Demon Follower is there.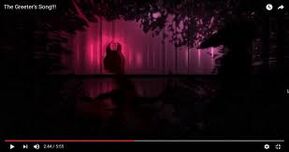 Trivia
The game was originally thought to be cancelled in development. Recently on the Slaughter Me Street channel, however, John Kolbek released a video that confirmed that they will be making 123 Slaughter Me Street 3.
A video was released on the Impulse Game Studios channel showing on what appears to be a very short trailer of 123 Slaughter Me Street 3.
Community content is available under
CC-BY-SA
unless otherwise noted.